SSL Certificates
Secure your website and protect transactions and customer data
Let customers know their private details are safe. Same security as our competitors for up to 90% less.
Get Started

Safely accept credit cards on your website
If you want to sell to a much larger audience, you need to give customers the payment options they prefer — AND you need an SSL to keep customers clicking through to checkout.

Increase customer confidence
Most people look for the https:// prefix in their browser bar before submitting personal information like their name, credit card number and address to a website. An SSL is the only way to get this.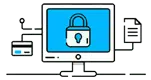 Protect sensitive information
SSL Certificates protect your customers' sensitive information by encrypting the data they send to you, then decrypting it once you've received it.
Plans & Pricing
Simply choose the plan and click on add to cart button to buy it.
About Our SSL Certificates
How it works
An SSL creates a secure tunnel through which information including usernames, passwords, credit card numbers and more can pass safely.
FIND YOUR GENERAL ANSWER
Frequently Asked Questions
These are some of the most common questions and answers about our ssl certificates.
If you couldn't find your question in the list below. Please contact our support team for your answers.